Tampere Festival of Light kicked off to the tunes of the Eurovisions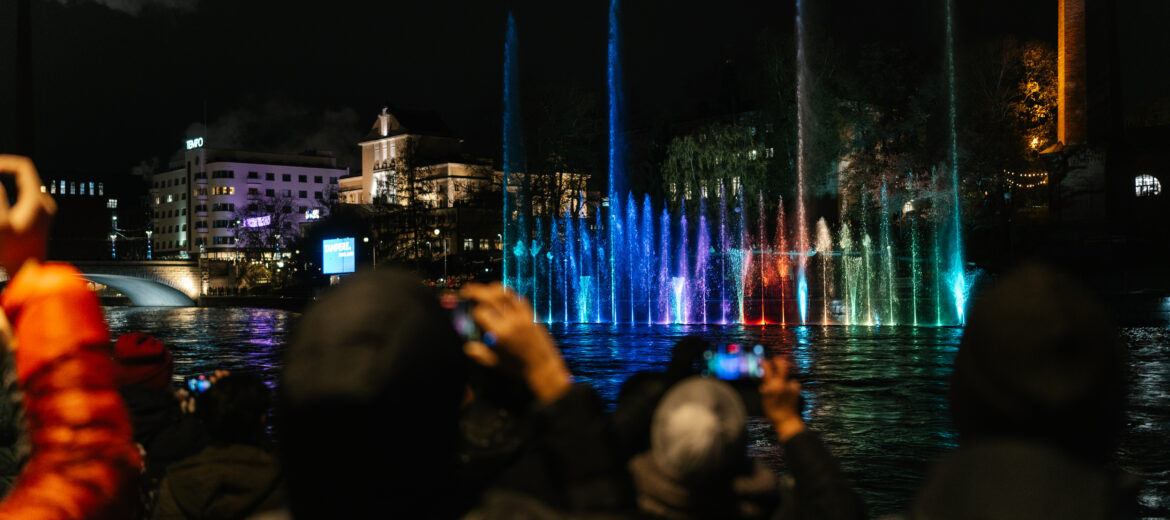 The Tampere Festival of Light was once again in full glory when the opening ceremony was held on Friday 27 October in Koskipuisto Park. The Eurovision-themed opening ceremony attracted a large crowd.
The Mayor of Tampere, Kalervo Kummola, opened the Tampere Festival of Light with an opening speech. The opening ceremony featured performances by Eurovision winner Emmelie de Forest and the Eurovision legend Anneli Saaristo. The event was hosted by radio journalist Pauliina Puurila.
The evening ended with a spectacular performance of Dancing Fountains, which got the Koskipuisto Park audience dancing to songs familiar from the Eurovision Song Contest.
Dancing Fountains will entertain passersby until Sunday 5 November. Performances are held every day at 7 pm, 8 pm and 9 pm. The songs change daily and can be found in full on the website of the Tampere Festival of Light.
Tampere Festival of Light will delight the city until 7 January 2024, except for the Light Gallery, which will continue until 10 March 2024.
Explore our photo gallery and get back to the Tampere Festival of Light opening celebrations. For more, check out the social media with #Valoviikot.