The highlight of the festival is the traditional Valogalleria – Light Gallery, located between Keskustori and Hämeenpuisto, this year presenting original Moomin illustrations by Tove Jansson in the exhibition Muumit ja talven taika from October 28, 2022 to March 12, 2023. The exhibition is based on the 1957 Moomin novel Moominland Midwinter.  It features 14 illustrations and one animation that bring the ever-popular Moomin characters to the walls of buildings in the Central Square and Hämeenpuisto districts. The exhibition is produced by Tampere Art Museum and celebrates the Moomin Museum's 5th anniversary.
The lights are on everyday from around 5 pm to 11 pm.
Light Gallery sight locations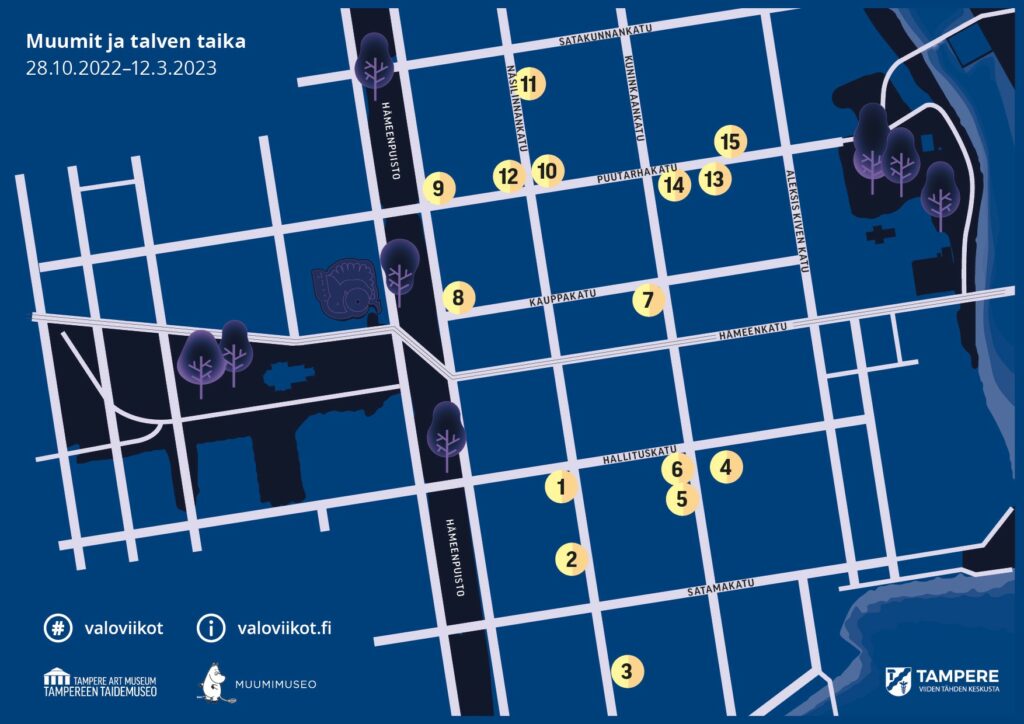 The Moomin Museum organises free guided tours of the exhibition for the whole family. The tours will be held in Finnish and take place on:
• Thursday 3 November 2022
• Thursday 24 November 2022
• Thursday 29 December 2022
• Thursday 5 January 2023
• Thursday 26 January 2023
The tour always starts at 6 pm from the corner of Hallituskatu and Näsilinnankatu and ends at Puutarhakatu at the corner of the City Office Building at around 7 pm.
Picture: Jari Kuusenaho / Muumimuseo © Moomin Characters TM.