Light art installations by Tuomo Rosenlund and Mika Hannula illuminate city centre during Tampere Festival of Light
Visual artist Tuomo Rosenlund and author Mika Hannula collaborate in the joint exhibition Urban Utopia merging visual and verbal storytelling. The collection of thirteen artworks explores the interaction between two distinct forms of expression – imagery and words – as they address overlapping themes. The exhibition harmoniously intertwines images and text, so that neither can exist without the other. The Light Gallery artworks will be projected onto the walls of buildings in Tampere city centre starting from 27 October. The Light Gallery is part of the Tampere Festival of Light programme and is produced by the Tampere Art Museum. The artworks will be on display daily during the dark hours from 27 October 2023 to 10 March 2024, approximately from 5pm to 11pm.
The artworks in the exhibition depict the beauty of everyday life through details and anecdotes, capturing the peculiar light and roughness of backyard settings. According to Rosenlund and Hannula, "The works depict our daily experiences as we are trying to navigate through dramatic changes, possibilities, and impossibilities, in the midst of the struggle between fact and fiction – an imaginary process where we create in images and words what is not yet but what we already have a sense of and can imagine."
Urban Utopia is a continuation of Rosenlund's and Hannula's previous joint exhibitions, which have been on display at venues like the Tampere Art Museum in 2018, Finlayson Art Area in 2020, and Galleria Himmelblau in September 2023.
Guided tours
Tampere Art Museum is organizing free guided tours in Finnish in the Light Gallery. The guide for these tours is visual artist Tuomo Rosenlund. The tours will be held on three Thursdays: 23 November, 30 November and 4 January. Departure is always at 6pm from the address Hallituskatu 9, at the corner of Hallituskatu and Kuninkaankatu. The tour will conclude around 7pm at Puutarhakatu 11.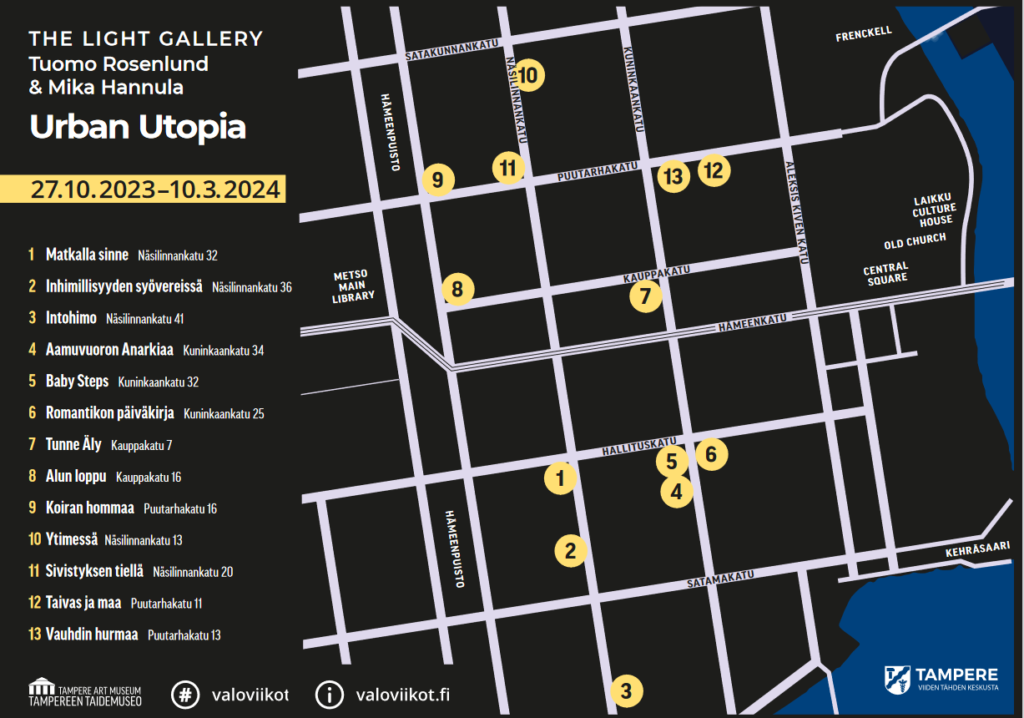 Tuomo Rosenlund (b. 1976) is a visual artist based in Tampere. Drawing has always been at the core of Rosenlund's work. In recent years, he has produced documentary, observational, and commentary ink drawings of constructed environments. Rosenlund is also known for his involvement in the ROP art group, that specializes in public art.

Mika Hannula (b. 1967) resides in Berlin and Naantali and is a researcher, writer, critic and curator. He earned his Ph.D. in political philosophy from the Department of Political Science at the University of Turku in 1997. Hannula's latest publication is Leikin filosofia, Parus Verus 2021. His forthcoming work, Missing in Action – Ethics, Narratives, and Memories is scheduled to be published in 2024 by the University of Osijek in Croatia.