Tampere Festival of Light illuminated and delighted the city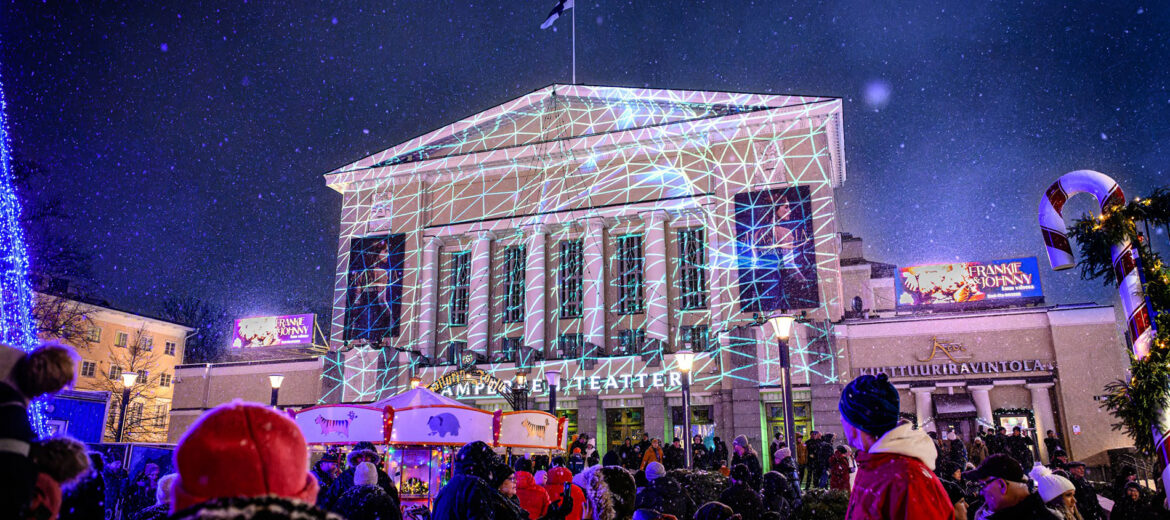 The 57th Tampere Festival of Light illuminated the streets of Tampere city centre with hundreds of magical light spheres, street projections and exciting light art during the darkest time of the year from 28th October 2022 to 8th January 2023. The Light Gallery exhibition Muumit ja talven taika produced by the Tampere Art Museum, will continue until March 12.
The Tampere festival of Light opening ceremony was held on Friday 28 October in Koskipuisto. This year the opening ceremony was starring Diandra and Osmo Ikonen. The evening ended in a magical Dancing Waters show. Dancing Waters took place in Koskipuisto on a total of ten evenings until November 6. 
A new element of the festival was the LED light curtains on Hämeenkatu, which illuminated Hämeenkatu from Rautatienkatu to Hämeenpuisto. During the festival, the light curtains reflected different themes of the Finnish winter.
On Independence Day, the buildings of the Central Square were decorated with colourful Christmas projections. Winter landscapes, snowflakes, stars and other Christmas patterns were projected onto the buildings. The projections illuminated the city center until January 6.
Light Gallery exhibition Muumit ja talven taika, produced by Tampere Art Museum, will be on display in the city centre until March 12, 2023. The exhibition is based on Tove Jansson's novel Moominland Midwinter published in 1957. The light gallery is located between Keskustori Central Square and Hämeenpuisto.
The Festival of Light was shortened this year as part of the "Down a degree" energy saving campaign. The energy consumption of the light weeks has been significantly reduced thanks to the use of LED technology and the replacement of lights.